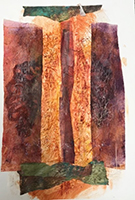 In our adventure of challenging the current paradigm we question the man-made cultural norms that dictate our lives. More than anything else, our greatest repression is the "Denial of Death". Pulitzer Prize winner, Ernest Becker's book by that title maintains. Human beings spend an inordinate amount of energy strategizing to ward off recognition of our mortality. Socrates said as recorded by Plato, "the practice of dying" is a phrase that describes one aspect of how we become "morally mature." Socrates urges us all to turn inwards and face our mortality. The Greek philosopher is among many others insisting we live with death in order to clarify our motives in life. It is surely possible that denial of death is at the bottom of our materialism, consumerism, addiction and escapism.
We have been using poems by Billy Collins this month as he is an artist who plays the death card as he is coming to terms with dying, the ultimate loss, with humor. Making the life/death/life issue conscious and personal is central to other realities in life and is at the core of artist's work, be it musician, dancer, writer or one of the artists of everyday life—chef, mother, carpenter. It also defines the different between skill and artistry. As materialists, we are used to perceiving and dealing with things like replaceable commodities, so our sense of loss seems minor in daily life. However, we all must process allowing our loss to make room to live when we feel and note loss. When not consciously felt and grieved loss becomes what Stephen Busby from Findhorn says constructs 'the un-lived life.'
Artists in particular, on the creative edge, cannot afford to deny the exchange that is required because it will stall the process. The creative process is on the edge of the unknown willingness to risk loss. This week we incorporated two earlier participant-lead refrigerator journeys, placing them in a part of the body to access in the imaginal somatic to blend into one piece through marking. We then deconstructed that piece onto a new substrate. This was to underscore how loss of the cut-up piece became material for something new. Despite the initial discomfort, everyone enjoyed the freedom of not knowing what was happening. Several of the re-worked pieces found a deeper resonance with more revealing content.
The first image above draws on two Refrigerator Field trips-one that brought me to Axis Mundi and the other to Intimacy. These were cut-up and reconstructed. Out of the ashes arose the image that reminded me of Baba Yaga's three-legged house. She is the archetype witch of the transformative agent of the psyche containing the wise and the terrifying tester. This alerted me that when a threshold guardian shows up there is something around the corner.