Transformational Painting Circles Series Beginning in March
In-Bodying the Field: 6 months of Mark-making from January
September 2022 - San Miguel de Allende, Mexico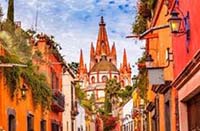 The 6-day workshop with 2-days of travel with Majio, www.anavamicenter.com to explore awareness of Marking in Relation to Embracing Contradiction.
Marking in Relation to Embracing Contradiction
September 8 –15 2022 – San Miguel de Allende, Mexico
The 6-day workshop with 2-days of travel with Majio to explore awareness of polarities:
September 8
Thursday Fly into Leon, Mexico and drive ½ hour to Guanajuato, known as the land of legends due to the residents' infatuation with supernatural tales, stay at Alma de Sol, home of printmaker Hugo Anaya.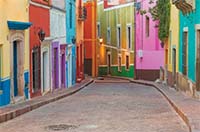 September 9
Tour of Diego Rivera's house
Estudiantinas- students, in traditional university uniforms, roaming the streets playing a variety of instruments
Tour of Guanajuato -Heart of the Revolution
Afternoon drive an hour to San Miguel Allende to Casa Gil.
Sept 10-14 Studio Days in the Casa Gil, tours, guest workshops & in-house cook.

Make spirit animals with Guadalupe Trejo, paper-mâché artist
Miguel Canseco international artist-Archetypal/Shadow Tarot
Special Chef for in-house event & meal
Private Local Artist Studio Tours
Masks Museum, https://www.maskmuseumsma.com
Artisan Market & lots of little trips
September 15 – Return in the morning to the airport in Leon, Mexico to fly home.
$2250 for first six people staying at Casa Gil, double occupancy.
Additional people can stay nearby for $2600. $500 register through email at Venmo or PayPal
Price includes: lodging, most meals, time in studio, ground transportation, tours
Does not include airfare or optional tours:
La Cañada de la Virgen Pyramid Tour of pre-Aztec Otomi people 540-1050 AD
Nearby Hot Springs, La Gruta Spa
"The place had me in the past and future. Losing my mind to be more open to the present. The colors, culture and feel of the land was Life soaking in. Making rubbings and markings of the different textures around the city created a vocabulary without words and speaking a dozen different languages. It intensified and broadened my experience of the city and who lives there. Making it very personal. Hearts, birds and cobblestones – always and never changing."
-Lorrie
"San Miguel….magical and unique. Another world unto itself with beauty and interest of all flavors around every colorful corner…street art, local people on the street, cobblestones and houses from a bygone era still relevant. I was astounded by the architectural details and textures which highly influenced my creative spirit. I came home renewed and cherishing all that I had witnessed. A rich and deep cultural experience."
-Jess
Have a great adventure in San Miguel de Allende. . .
https://www.travelandleisure.com/trip-ideas/city-vacations/san-miguel-de-allende-photos