Transformational Painting Circles
Painting to Invite in the Spring, Saturday - April 1st Transformational Painting Workshop
  Large format acrylic painting including materials, $120. 10:00 am – 3:00 pm
Bring something to share with hot soup.

Spring is the time of budding new growth, the beginning of new projects and dreams. Making and entertaining images is an ancient means of creating the future. Let your paintings call in a vision of possibilities and potentials yet to be imagined.
Large Format Mixed Media Acrylic Painting with creative tools and implements Fridays 10-1:00 PM 3-hour sessions 4 weeks for $250 including materials
The story of Skeleton Woman illustrates the stages of adventure into the creative process. As an archetypal journey it begins with the call, followed by the answer which means stepping into vertical alignment and the evocation of the depth of experience. Beware the shadow, a slippery territory where if mindfulness is not built into the creative process the soul of the painting cannot cultivate. The chase is the emotional essence, called forth through the desires and fears of everyday life. Organizing of the bones encourages participation in the soul structure of things. In every painting session we surrender anew to the pause as sleep into rebirth. It is Surrender that allows for the painting to paint itself and the tear acts to heal, reunite, and bring forth nurturance to call in spirit. Finally, Creating through heart acts as a willingness to descend into the realm of feeling. We invite these stages into our process and allow the journey to develop as we manifest on a large format canvas all that these evoke.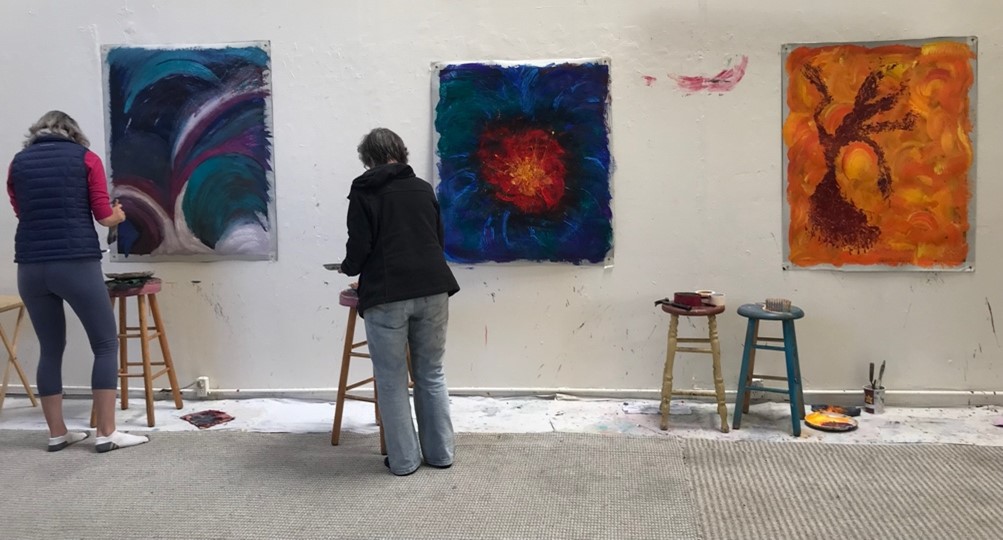 Explore this creative process at Anavami Studio on the Westside in a small group:
• collaboration with the life forces through materials, environment, dreams and current world events.
• Somatic-mind as the animal-body intelligence. It is an embodied consciousness knowing yourself relationally in the world through feeling, action, nonverbal awareness, and emotion, but not necessarily self-awareness in the activity. Somatic-mind embodies instinct, archetypes, and intuitive knowing—all basic elements for transformational change.
• the imaginal realm as a meeting ground, a place of active exchange between bandwidths of reality, everyday life and potentiality.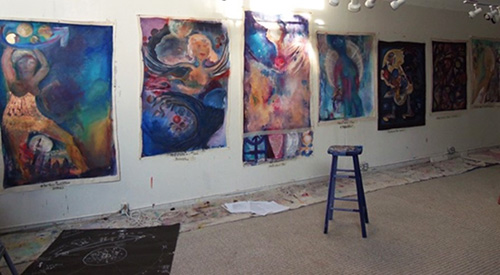 More details on this archetypal journey are here: Transformational Painting.
We also offer a one time drop in option. Register Here For Drop In Option
Re-Wilding Woman
Returning to Oneself
First of a Four-part Series
Weekend Gathering
With Carolyn Farrell and Majio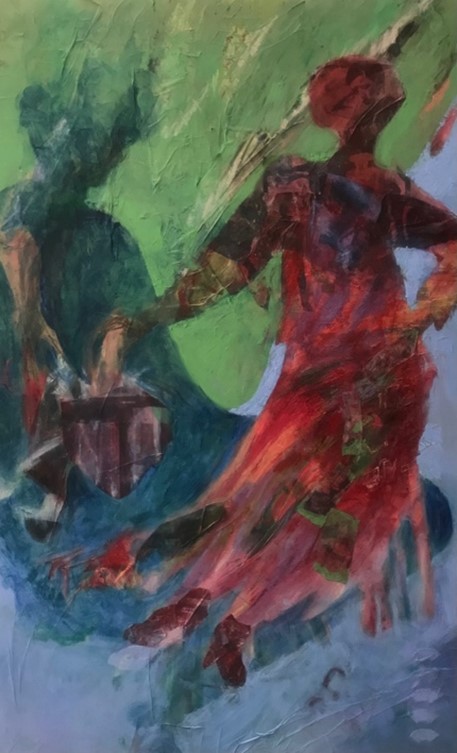 In this first gathering, Returning to Oneself… we look to the story of the Selkie, a seal who lost her pelt. She is a metaphorical being forced to live in a world that is not soul-nurturing or creative. She longs for home, a place of autonomy in balance within the natural world. The revitalization of the feminine creatively loosens the constrictions and assumptions of power and expectation in the world-out-of-balance. This painting/marking process offers a deep exploration through creative play of perspectives that change habitual reality. Empowering, reflective, and offering new possibilities this weekend will lead you to a more creative, more joyful, more colorful and connected sense of being with ways to sustain it.
Expressions of the Journey
Soul-pelt as our relationship to ourselves, nature and each other.
How do we lose our Pelt?
Soul-pelt reclamation through personal ritual and creative process.
Pelt is our soul-skin, connecting us to our most elemental self. The value of our essential soul-skin is maintained through conscious awareness. Together we will remember its power through rituals accessible in our daily life as we develop skills through creative process.
Friday evenings 7 pm to 9 pm, Saturday, 10 am to 4 pm, and Sunday, 10 am to 3 pm after workshop follow-up to share insights and resulting inspirations. Large format mixed media painting, no experience needed.  $350 includes materials. Contact us with any questions.
Majio – anavami@cruzio.com
Carolyn – carolynfarrellmft@gmail.com
Dates will be announced soon.
Wobbling the Paradigm Courses
Introduction to Markings
A self-paced online session providing the foundation for Wobbling the Paradigm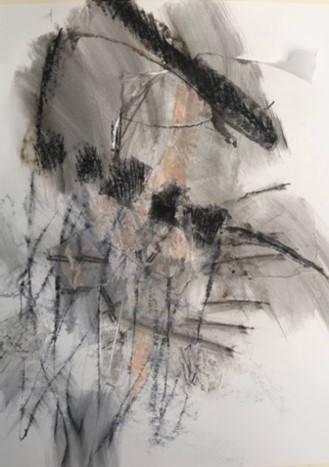 Homo Nota, human beings mark.
We are fundamentally markers. In the physical sense all of the arts are created with marks-from the visual and plastic arts through theater and literature. In the metaphoric sense our conversations mark each other, and we are marked by others. With varying influences we leave traces of who we are in every movement with varying influences. This introductory class gives you a sense of how re-defining marking through various approaches opens up innovative ways of being in relationship in the world.
The Introduction to Marking gives you a chance to play with marks and capture a joy of new discovery as we take you through a couple of interactive marking approaches. This course also provides a preview of the Foundational Markings Seminar, a journey of 25 marking sessions that provide a foundation and vocabulary for the current online and in-person sessions, Marking as Being, at Anavami Studio. This includes instruction in 2 marking approaches. The registration fee for this self-paced on-line course is $50, which will go towards the Foundational Marking Seminar.
2023: San Miguel de Allende, Mexico and Ojo Caliente, New Mexico USA
Contact Majio if you are interested in either of these retreats.
Email: anavami@cruzio.com
Phone: (831) 420 – 1349