This week we are taking a break from meeting in circle before we dive into shape- shifting. This gives us an opportunity to show some of the collaboration work that we have been doing between participants. The format is that someone works on a piece, diptych or triptych and then passes it to another member who works on it to be handed back to the original artist to finish it, taking notes on personal insights of process and/or content.
This adventure brings up many issues. One is completion, for it is courteous and respectful to not over-do your part. When working on another's piece you need to stop for different reasons than usual. Lorrie and I took several weeks of looking at the piece in all stages, not to strategize but simply to take-in and trust in an authentic response. Rather than the usually slap-dash delight of random, I needed to listen intently at each stage. I carried the piece inside me during that time alert to a markings that wanted to participate in Lorrie's piece. After Lorrie's work, it seemed to need something very small and subtle for completion. I waited until a Xerox transfer of cobblestone caught my eye. I knew that was it. But again, I waited to see if the flirting developed into a relationship of some kind. In the end, I put it into the white space and as there was not enough of the print to fill the space, I continued with drawing to repeat the pattern with colored pastel pencils.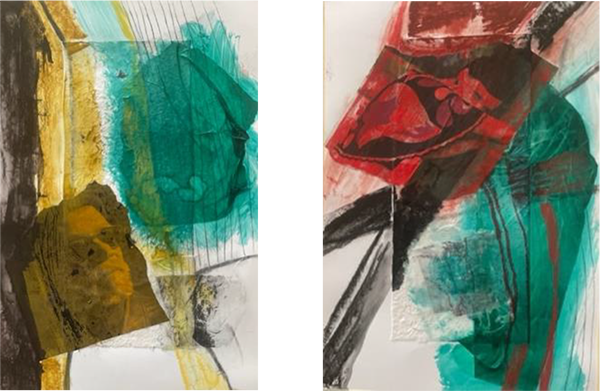 I was more comfortable working on Majio's pieces than returning to mine after Majio had worked on them. I think that I was afraid of losing what Majio had added because it felt like my pieces needed her expression in them. Very interesting interaction. Lorrie
Lorrie's Originals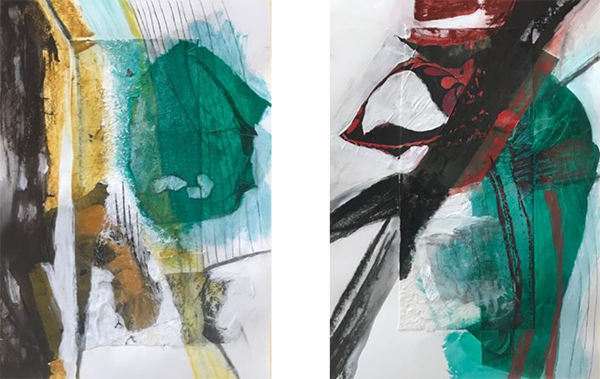 It is always a delight to work on Lorrie's pieces as they call something new forth in marks, color and subtractions. It is like toning a new muscle or listening for a here to unheard nuance. It forces me to be attentive in a new way. Majio
Majio's Contributions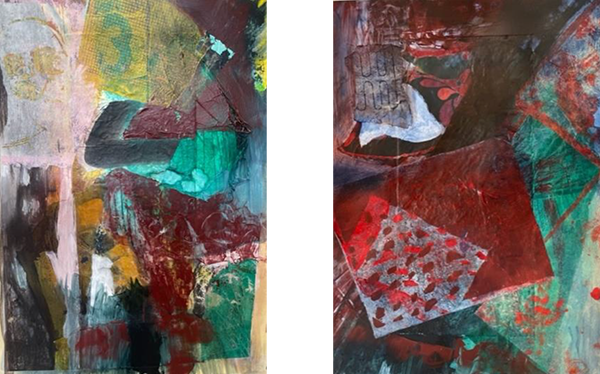 All participants are doing a collaborative exchange in three parts that we will be sharing in the blogs.
Lorrie's Completion