Exploring Selfhood through marking we incorporated our prints from last week of persona and shadow. We opened with an invocation from Undefended Love by Jett Psaris and Marlen Lyons…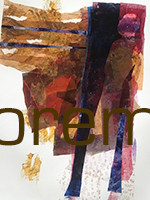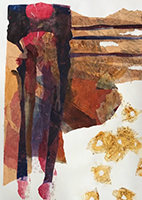 Intimacy—direct, unmediated, heart-to-heart connection with ourselves and with others—can only occur when the heart is undefended. To cut through our personal differences, to reach the unveiled part of ourselves that is deep enough to express the most profound and untamed aspects of our being means learning how to love and be loved without defenses and without obstructions. It means cultivating the capacity to be emotionally present even when we feel exposed or vulnerable; learning to relinquish the many strategies we have employed to feel safe and in control; and finding the courage to love without guarantees or requirements. Through developing the capacity for intimacy in this way, we discover love is an abiding presence in the emotional center of our being, our heart and we can never feel emotionally disconnected, incomplete, or unloved.
Selfhood implies a level of maturity that identifies with a larger sphere. To guide us to this understanding we took the time for conscious breathing over and extended period showing and feeling how the exhale and inhale are distinct yet intimately a part of a whole that does not work without total union. Just as in breathing, selfhood denotes a larger container beyond cultural beliefs, national identity, age and occupation. It includes our character holding all the other selves.
We all explored selfhood in our own way, through sensing, remembering a peak experience that informed the larger self or simply by trusting our marking to reveal something that has been concealed. Most of us worked in the format of triptych which offered a sense of the temporal and/or change in space. In my own work I have found working in a series in the diptych or triptych format, where the pieces inform each other, additional nuances to appear. It is a way of add another ball to those that I juggle which focuses my concentration that often develops content vertically, as well as horizontally. It requires an attitude of reciprocal yielding and loosening of control.
Click on thumbnail to see full size image.