Open Studio Art Tour - October 1 - 2, 2022
Welcome to Open Studio! Bring your willingness to enter other possible realities for if you think you are being invited into a display space, a room, or a studio—not this time.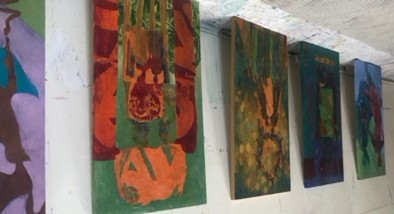 Fancy that you find yourself in a long hallway with a variety of doors. The paintings are not things, object or even paintings but doors without handles or knockers. Each is a journey. It was a journey to create the door and now depending your levels of perception the doors offer another journey. It does, however, take a suspension of consensus reality. Can you imagine that you are not looking at material or commodities?
It is a creative process stretching from what we think we know into the willingness to engage not-knowing. This is the only approach I have found to Wobbling the Paradigm. Wobbling is an asymmetrical movement loosening the beliefs that keep us moored to what brought us into this corner of global calamity. Slow down, it takes time for your eyes to adjust to the metaphoric dark. It takes time for the old lenses to adjust to what is there. I wish that I could show you through the door, but by the grace of the gods I have found my way to the door, the rest is up to you. The statement at each door may help, even if it is a revolving door that shoots you back to where you started. Usually when a group of work is shown together, they have a visual continuity. There is a container that holds them in a theme. This year the pieces reflect a process which means they are not duckies lined up, but a ride. The visuals are only the invitation to possible adventure into other ways of seeing, perceiving and believing. This is not radically unusual in the visual arts, but you can miss it. We are working with the psyche, which although it seems to be integrated, it functions beyond linear time or space. How we perceive the thread relating to now is helpful. The formulas on the Blackboard Series may be of some help. The first comes from a renegade physicist, Fred Allen Wolf who proposes that the idea of sacred time, dream time or creative flow cannot be factored into a linear equation. Because it is not of the past or future. Wolf conceives of it as a circle that rolls along the timeline and where it touches is the now. In the second piece the diagram, also by Wolf demonstrates quantum computer that is not binary and does not function with memory but possibility. The third mathematical equation is for uncertainty from research biologist Michael Dickinson working with drosophila, fruit flies on decision making.
Please come by for Open Studio, first weekend in October- 2593 Mission St. Ext.

Transformational Painting Circles - Friday mornings 9 am to 12 pm

Four 3-hour sessions   
 $250 materials included

Large format acrylic painting without product in mind rather allowing embodiment of creative process to play in & out.
Martin Shaw says, "Good Story tellers create a spell, and great story tellers break a spell."  It is the same with painters, we create spells and we can use painting to break spells. Large paintings have a somatic component and can actually open up new ways of perceiving.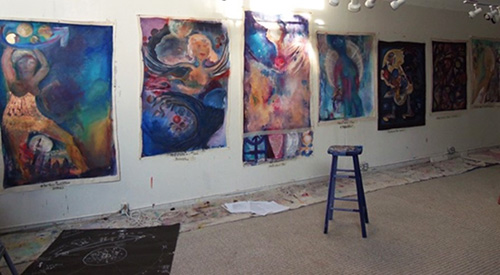 A spell binds our perceptions and thus our behavior and we can be under that spell for decades. Creating outside the bindings of a spell offers unconsidered possibilities where we can break free of the consensus reality we have created, often via enchantments of movies, books, fashion, politicians or others who have played on our identities and desires. Stretching to the large format within a collaborative environment creates an energy that seeps into other aspects of life, breaking those old spells. Come to the studio to experience this sense of freedom.
Register or ask questions by contacting Majio at anavami@cruzio.com
Monoprint Workshop Saturday - November 5th 9 am to 12 pm
Printing is an intriguing way to make marks by augmenting lack of control. The ink or painting you put last on the plate is what touches the paper first, covered, or not, by the next layers on the plate. It is almost impossible to calculate how it will come out. It is playful cultivating receptivity to mystery, surprise and the unknowable. It is a method for Wobbling the Paradigm, breaking out of consensus reality, an aspect of marking developed in the Marking Seminar.
No art experience is necessary & lots of experience can be loosened up to a new freedom!
Alert- monoprinting is addictive.
Join in on this fun morning of letting go and playing with the unknown.
$75 in Studio including materials & $50 for online participants.
Send questions to Majio: anavami@cruzio.com
Wobbling the Paradigm Courses
Introduction to Markings
A self-paced online session providing the foundation for Wobbling the Paradigm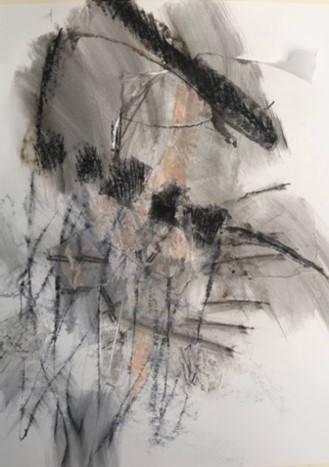 Homo Nota, human beings mark.
We are fundamentally markers. In the physical sense all of the arts are created with marks-from the visual and plastic arts through theater and literature. In the metaphoric sense our conversations mark each other, and we are marked by others. With varying influences we leave traces of who we are in every movement with varying influences. This introductory class gives you a sense of how re-defining marking through various approaches opens up innovative ways of being in relationship in the world.
The Introduction to Marking gives you a chance to play with marks and capture a joy of new discovery as we take you through a couple of interactive marking approaches. This course also provides a preview of the Foundational Markings Seminar, a journey of 25 marking sessions that provide a foundation and vocabulary for the current online and in-person sessions, Marking as Being, at Anavami Studio. The registration fee for this self-paced on-line course is $50. This includes instruction in 2 marking approaches.
Register or ask questions by contacting Majio at anavami@cruzio.com
Foundational Markings Seminar
Self-paced online course
 25 approaches to marking-making
With Majio
The Foundational Markings Seminar was developed in preparation for Wobbling the Paradigm, an endeavor to use visual arts to perceive and explore realities that have been excluded by consensus reality.
This is a self-paced online course including 25 marking approaches plus three online conferences with Majio.
Foundational MARKINGS Seminar covers:
invisible marks that show up unannounced
tactile marks from the environment
3-D marks
naïve, authentic marks
soft marks with various tools
textural markings
marks that subtract, honor the void approaches to go beyond controls of habit
Each approach introduces a new way of perceiving and thus responding.
Foundational Markings Seminar
These approaches allow us to explore our relationship to things, people and systems with playfulness. Stand back a few feet from your paper while using a pen or brush at the end of a long stick, allowing the imprecision to make fresh authentic marks. Feel your own face with one hand and without looking translate with the other hand simultaneously the sensation through marks on to a paper. These approaches offer a new way of perceiving ourselves as well as a glimpse into a different reality and in time it stretches our perceptions in the imaginal realm, influencing our empathy, creativity and innovation.
This seminar develops an awareness of:
life force in all things
collaboration in all aspects of marking
how identifying with product narrows creativity
how old habits limit perceptions
we are not the center of the universe but in constant exchange, in conversation through our bodies and psyche
The intention of these marking experiences is to build a new vocabulary, literally and figuratively. We go on to use the marking vocabulary with our new perceptions in individual ways with various mixed media. They develop all our senses including intuition by wobbling the art paradigm developed by left-brain training, cutting through habitual personal and cultural aesthetics. Through the embodied imaginal field we cultivate a more enhanced and nuanced relationship to world as we become more a part of it.
Register or ask questions by contacting Majio at anavami@cruzio.com
Transformational Painting
Painting Circles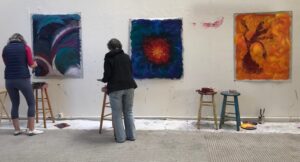 Come into the studio and explore, through large-format acrylic mixed media, the realities that we have created and h ow through the creative process we can open new possibilities. It is not about technique in painting but more about cultivating poetry of life and innovation as an attitude of choice.
$250 for four 3-hour sessions, all materials included.
Friday mornings 10-1 pm bring lunch or snack.
Register or ask questions by contacting Majio at anavami@cruzio.com
Re-Wilding Woman
Returning to Oneself
First of a Four-part Series
Weekend Gathering – January 27th to 29th, 2023
With Carolyn Farrell and Majio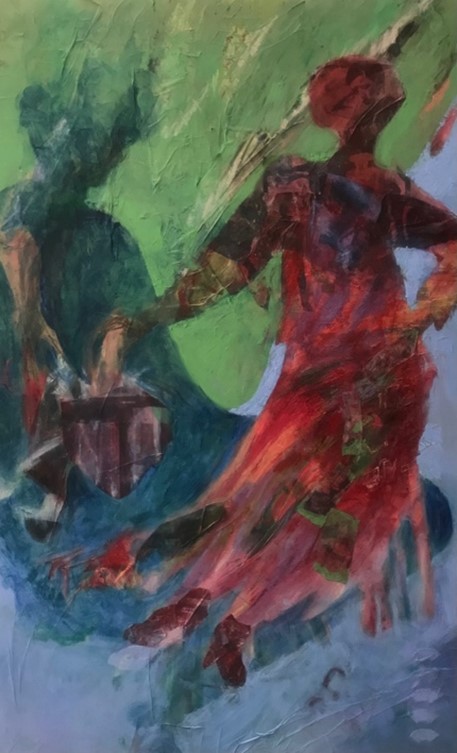 In this first gathering, Returning to Oneself… we look to the story of the Selkie, a seal who lost her pelt. She is a metaphorical being forced to live in a world that is not soul-nurturing or creative. She longs for home, a place of autonomy in balance within the natural world. The revitalization of the feminine creatively loosens the constrictions and assumptions of power and expectation in the world-out-of-balance. This painting/marking process offers a deep exploration through creative play of perspectives that change habitual reality. Empowering, reflective, and offering new possibilities this weekend will lead you to a more creative, more joyful, more colorful and connected sense of being with ways to sustain it.
Expressions of the Journey
Soul-pelt as our relationship to ourselves, nature and each other.
How do we lose our Pelt?
Soul-pelt reclamation through personal ritual and creative process.
Pelt is our soul-skin, connecting us to our most elemental self. The value of our essential soul-skin is maintained through conscious awareness. Together we will remember its power through rituals accessible in our daily life as we develop skills through creative process.
January 27th, Friday evening 7 pm to 9 pm, Saturday 28th, 10 am to 4 pm, and Sunday 29th, 10 am to 3 pm after workshop follow-up to share insights and resulting inspirations. Large format mixed media painting, no experience needed.  $350 includes materials. $50 to register through Venmo @Patricia-Majio, PayPal or call us with questions.
Majio – anavami@cruzio.com
Carolyn – carolynfarrellmft@gmail.com
Fall 2023 San Miguel de Allende