Upcoming Events at Anavami Studio
Open Studios October 9th and 10th:
This weekend is North County Santa Cruz Open Studio and I hope that you are coming out for what our community is offering. In 2019 the beginnings of this body of work was peeking through and may have caught your attention. This has been totally new and emerged as a collaboration with the relational-field, a leap from bifurcation of on/off, yes/no welcoming a third component. I just know that something new is afoot and it is recognizable. See if you notice something different. Come out for Open Studio to witness how people are perceiving and interacting with the world. See if you can look at it not as products but engagement with life.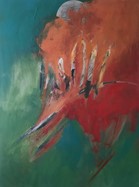 Transformational Painting Workshop October 24th, 9am-12pm:
Join us for a morning of transformational painting on Sunday October 24th from 9am-12pm in the studio for $50 or on Zoom for the reduced price of $40 (must purchase your own materials). This kind of painting is a kissing cousin to process giving voice to the psyche, that mysterious element that is out of time and space. It is best known through nighttime dreams, synchronicities and dealings with the unconscious. The psyche wants integration, wholeness and healing, and speaks in images. This will be a lot of fun with which to engage. Call Majio at 831-420-1349 to sign up. 

Transformational Painting Circles starts November 5th:
Transformational Painting sessions will start the first week of November on Friday afternoons 1pm-4pm.  Join us for fun afternoons of playing to create.  These large format acrylic painting sessions get you up and engaged with body as you interact with the canvas.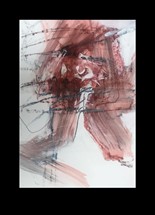 Marking Experiments Circles in October and November:
We are taking an in-depth dive into the practice of marking with image transfers and the creation of stencils for use in our markings and monoprints.  You can get involved with some of the long-term members of the community as we expand our own understandings of materials and process. 
New session-Wobbling the Paradigm: Marking from Within the field
We will be starting a new session in Wobbling the Paradigm starting in early January.  This session will be a six-month session centering on the body and imaginal engagement.  Marking from Within the field will offer members a chance to play with our sense of identity as our perceptions expand and reality reshapes.